Genio 350-EVK
---
This chapter describes platform-dependent information and instructions. For example, you will get different benchmark results on different platforms.
For general usage of Wi-Fi, such as command to configure DHCP or static IP and so on, please refer to Wi-Fi chapter.
Note
Command operations and test results presented in this chapter are based on the IoT Yocto v22.1 and Genio 350-EVK.
Note
Genio 350-EVK in IoT Yocto v21.3 supports WPA2 by default.
---
The Wireless card should be connect to SDIO interface (M.2 slot) on Genio 350-EVK:
The MT7663 M.2 card supports WiFi5.
Important
IoT Yocto - Genio 350-EVK does not support MT6631 companion chip. It only supports MT7663 modules. Module AW-CB451NF is used in this installation guide. You can find more configuration details in MT7663 Module.
Important
Prior to the release of IOT Yocto V23.0:

IoT Yocto does NOT provide official support for Bluetooth functionality on MT7663. Only the Wi-Fi connectivity features are supported.

After the release of IOT Yocto V23.1:

The IoT Yocto supports BlueDroid functionality for Bluetooth on the MT7663 module. However, this feature is exclusively available to licensed customers.
Important
The pin assignment of the MT7663 M.2 module AW-CB451NF is not compatible with the standard M.2 E Key. Consequently, the pin assignment of the Genio 350 EVK is also not compatible with the standard M.2 E Key. Please keep this in mind when you are considering replacing the module or making modifications to your new boards.
There is a M.2 2230 slot on Genio 350-EVK board. It is reserved for wireless card. In the picture below, you can find 3 cables connect to the antennas on Genio 350-EVK and MT7663 card. These cables use I-PEX MHF4 (IPEX4) connectors. You should be able to find these 3 cables comes along with the Genio 350-EVK, which just fit the distances between the antennas and wireless card. (There are 2 black cables for Wi-Fi, and the other gray cable for bluetooth).
There are other MT7663 modules with 2 antennas instead of 3 antennas. In this case, simply leave the gray cable unconnected.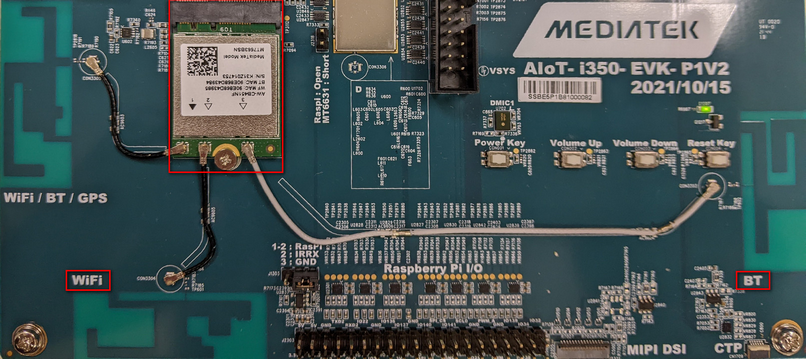 Note
Interface name in Linux OS may be different by modules. It should be wlan0 for MT7663 SDIO module.